Djangolizer NEWS
28_4_2013
I updated a few songs and made different versions. Sometimes there was a wrong chord inside.
I also moved some user songs to the library. Thanks to the users, which share new songs with other users.
Alemberts
Happy Birthday
Undecided (30' Moody) Easy Django Book 3
Gypsy Groovin'
Hunn, O pani Naschella
Groovin' High
A little Wes
Billie's Bounce
I can't give anything but love - simple
Just one for Babik
I also want to announce, that there will be
SOON
a free update available for download.
We are beta testing the whole thing right now.
- Djangolizer will have diagonal arpeggios and scales.


- The installer will install the whole library on your computer for offline access to the songs. The local library can be updated easily by one mouseclick in future times.

- The load dialogue will show you a preview with the song informations.

-
and has alphabetical buttons
for a quick access to the songs.

- A setlist of 15 songs can be loaded at one time. This helps you to print out setlists for your band and to combine similar songs.

- The print function is improved. You can print the grid alone without the fretboards or some of the fretboards without grid.
Djangolizer users will get an email, when the update is ready for download.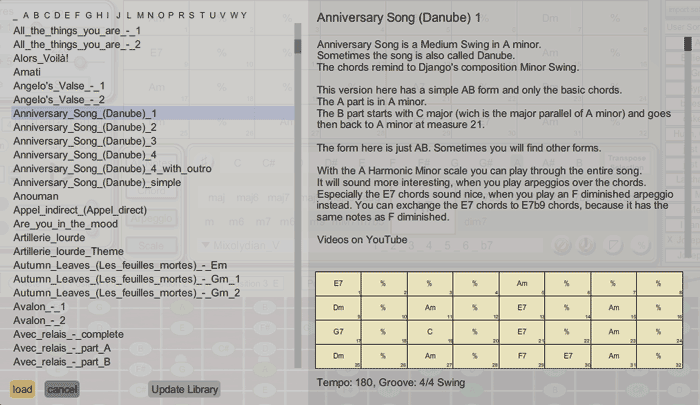 4_1_2013

I programmed some Django Reinhardt compositions and put them into the library.
Have fun.
Vendredi 13
Crépuscule
Vette
Impromptu
Oubli
Gaiement
Porto Cabello (il Mexicano)
Del salle
Stop
What kind of friend
Blues primitif
Folie à Amphion
Diminushing Blackness (Diminushing, Black Night)
Festival 48
Pour que ma vie demeure
Féerie
Souvenirs
1_1_2013
For New Year 2013, I optimized some user songs and programed some new ones.
- Avec relais
- Swinging with Django
- Giant steps
- Brise Napolitaine
- Clouds
- Cantina Band
- Days of Wine and Roses
- Mire Pral
- Sway
- Valse pour Django
- Mabel
- Appel indirect
- Are you in the mood
- Bolero
- Cavalerie
- Mystery Pacific
I also optimized some songs in the library and made simple versions of them.
More will follow soon...
Have fun and a swinging
Happy New Year 2013 !!!




18_12_2012
For Christmas time, I uploaded some new songs:
All the things you are
All Love
Alors? Voilà!
Belz
Besame mucho
Candy
Elena's bossa
Illusionen
Jersey bounce
J'en ai marre
Jardin d'hiver
Laurence Suni
Le pornographe
Natascha
Prince Ali
Smile
Stardust
Swanee river
Warrior cat
You will find them in the Djangolizer library. Enjoy.
Some more songs will follow, if I will find some more time.
I also deleted some double songs in the USER folder and I optimized and moved other songs to the library.
Thanks to all the users, which compose new songs and share them with other users.
Merry Christmas,
Christian Ruh
1_12_2012

I added some new songs to the library like "Oriental Shuffle" and "On the sunny side of the street".
I also added some exercises of the method book "La Guitare Manouche" from Daniel Givone.
They're called "Ex - Cadence en Do" and so on and "Givone Standard - Blues" and so on.
Have fun...
16_6_2012

There was a problem with our server and the user folder got lost!
We uploaded now an old backup, but some newer user songs are still lost.
Anyway, please keep on sharing! Maybe you have to share a song again.
I will clean up the user folder soon and move some songs into the library.
Thanks to all the users, which compose songs and share them :-)
With the new Djangolizer version it became very easy and fast to compose new songs.
Soon I will upload a video with some tips, how to compose songs in Djangolizer the best way.
23_5_2012

I wrote some tips and rules, how a Jam Session is organized. Right now it's only written in English and German. French will follow later.
Here the link:
Gypsy Jazz Jam Session
10_4_2012
If you have trouble with
printing
or making pdf-files, please install the newest version 1.52.
Si vous avez des
problème avec imprimer
, installez la nouvelle version 1.52
7_4_2012
I tweaked the songs
Nuages
and
Minor Swing
a little bit and put them into the Demo Version Songfolder.
You get some theory hints in a new
Minor Swing - exercise
version. The normal
Minor Swing
version has the intro and outro included now.
I simplified the
Nuages - simple
version a little bit more.
I hope this will help you to practice those two songs better.
It seems, that some user, which bought the old version of Djangolizer don't realize, that the update is FREE.
You can download and install it the same way as you installed the old version. Refer to the manual if you can't remember.
Have fun,
Christian
2_4_2012
The Djangolizer user manual is up to date and online now.
It's written in ENGLISH, FRENCH and GERMAN.
Please take the time to read it. It won't take long but gives you some tips how to use Djangolizer more fluently.
28_3_2012
Wow, finally we made it. The new version of
Djangolizer
is out now!


For those who bought it already, the update is for FREE!


I want to thank all the users, wich supported us with buying Djangolizer, telling other people how they like it and giving us any response and tips.
As mentioned, the update is free. Anyway, we made a big effort to include all the new features.
That's why the price is going up. Djangolizer costs 69.- Swiss Francs now, which is about 59.- Euro.
Djangolizer is worth every penny and will help you to understand music theory on the fly, gives you the opportunity to print lessons for your students and is more than ever a lot of fun to practice Gypsy Swing.
We included many new features:
- Composing a song is much easier now! You can use the key-commands COPY and PASTE, to copy repeating measures. The selection has a different color now. You can also transpose only the selection of a few bars, instead of the whole song.
Also the key-command UNDO is possible for unwanted changes in the grid.
ATTENTION: Mac user have to press the button "ctrl" instead of the command-button with the apple on it. It's uncool I know, but it's a bug in Flash.
- Now you can write informations about each song in a textfield.
I wrote for each of the 200 songs in the Djangolizer library some tips&tricks, how you can play a solo over the tune and which videos on YouTube could be helpful. I set the best possible scale for each chord in the songs! Sometimes you will get some music theory as well.
- We added a Score view. Especially musicians with A, Bb, Eb, F and Bass Instruments will love it. You can change the key of the score with one click, but the playback will still play the usual chords in the C key. The cursor turns blue, to indicate that.
- The chords in the grid (grille) have now international conform labels. Now the maj7 maj9 chords are written M7 and M9.
- The playback can be limited for a few choruses. For example you set it to 4, you can play the theme, two choruses of solos and the theme again. Djangolizer will stop the playback then.
- Mute and accentuation. You can mute some measures or make accentuations for breaks. It's needed for some themes or you can use it for practicing a better timing.
- We added some new chords: aug, m69, 7b5 and 13b9. I hope the new recordings don't sound too different to the old chords. It was two years ago I recorded them.
- We completed the scale-list with all harmonic minor and melodic minor modes. The minor pentatonic scale is also available now for major chords. That's needed for playing the Blues.
Check with the renewed songs in the online-library, how the scales now fits to the song harmonies.
New Djangolizer-Demo Version
The demo has now seven Django compositions included. You can see all notes, chords, arpeggios and scales, but you can't change or compose anything.
I included a simple version of "Nuages", because I always struggled with playing the right notes in my solos. I wonder, if this simple version will help you to play a nice solo over it. Please let me know your experience.
Soon I will put some videos on YouTube, to show you how to use Djangolizer and how to practice Gypsy Swing in a fast and easy way.
Have fun...
sincerely yours,
Christian Ruh
24_12_2011

Merry Christmas to everybody.
Djangolizer is one year old now!
I want to thank everybody, who made this software possible, to all the user, wich supported me financially and all the musicians out there, wich gave me the inspiration for this project.
Here is my Christmas present for you:
I added 26 standards to the Djangolizer library
Django Reinhardt compositions:
Black and White
Blues d'autrefois
Bricktop
Deccaphonie
Micro
Moppin' the Bride (Danse Nuptiale)
My Serenade
Paramount Stomp
Twelfth Year
Ultrafox
Other new compositions:
La Fleur De Lavende
La Mer (Beyond the Sea)
Milko
wich has 12 bars in the B part
My Melancholy Baby
Petite Fleur
Rosetta
September Song 2
Seresta
Songe d'automne
Sweet Sue Just You
Syracuse (Bossa Nova Ballad)
The Man I Love
Topsy
New waltzes:
Angelos Valse
from the Gypsy Secrets Book Volume 1
Mysterieuse
separate parts A, B, C and full song with intro
Swing Valse
We're working on a Djangolizer update now.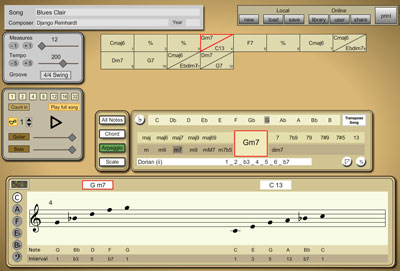 I guess it will be ready in January or February 2012.

New functions are:


- Repeating a chorus or loop for a certain amount of time.
- Score view and print in the tonalities C, Eb, Bb, A, F and Bass. Great for all violinists, clarinettists, saxophonplayers and accordeonists.
There are still many other functions I would like to include in Djangolizer, but it takes time.
By the way,
I have a new internet page, to introduce bands and musicians especially in Switzerland:
www.jazzmanouche.ch
Keep on swinging and a HAPPY NEW YEAR,
Christian Ruh


10_10_2011

The server is working again
. There is access to the library now!

09_10_2011

Pardon, but at the moment, there is no access to the online library.
We try to fix this problem as soon as possible.


06_10_2011

I found a very nice guitar page, with free music theory lessons. Very simple to understand and very useful for Gypsy Jazz players.
www.zentao.com/guitar/theory
I added some other new
links
23_09_2011
I cleaned up the USER Library on the Server.
Excercices have now the letters EXC in the beginning of the name.
Thanks again to all the users, wich took their time to compose some songs and excercices and share them with us :-)
If you cannot load any song from the server anymore, you should download and install the newest Djangolizer version 1.04.
15_09_2011 - Djangolizer Update 1.04

Much time has passed. Many notes were played :-)
Meanwhile we added some new features to Djangolizer and a few more will be added soon.
- Delete button
now you can delete a song from your Local library.
- Import/Export
Now you can import and export a song. It's a good feature for exchanging a song by email.

- Import/Export manually
I added to the manual, where you can find all your Djangolizer songs on your harddisk for making backups and sharing them with friends.
LOAD/SAVE Manual (English)
(Deutsch)
(Français)
- Lefthand/Righthand Fretboard
Now you can choose, if you want to see the fretboard left- or righthanded.
This update is free for all Djangolizer Customers.
login/download
The Demo Version is not updated yet !!!
14_06_2011
The manual "print" section has now some print examples for downloading.
There is now also a "Jazz Manouche Chords" list for downloading.
Enjoy
10_06_2011
I optimised the Djangolizer Homepage and added three links:
NEWS
,
Gypsy Swing
and
Tips&Tricks
.
The
NEWS
will be written only in english.
Gypsy Swing
and
Tips&Tricks
are written in English and German now.
The French version will come later.
In
Gypsy Swing
I write about the music, the difference to the American Jazz and what is important when you want to buy a gypsy guitar.
In
Tips&Tricks
I help you to get organized in practising guitar, how Djangolizer can help you with your daily exercises and how you can find out your own licks.
The
Tips&Tricks
will be modified sometimes in the future. You will get the infos about the revisions here in the
NEWS
.
Djangolizer
My cousin is very busy now, but we plan to make some improvements to Djangolizer very soon.
A song delete button and a left hand fretboard will be added.
best regards,
Christian